A Closer Look at Microsoft Teams and Zoom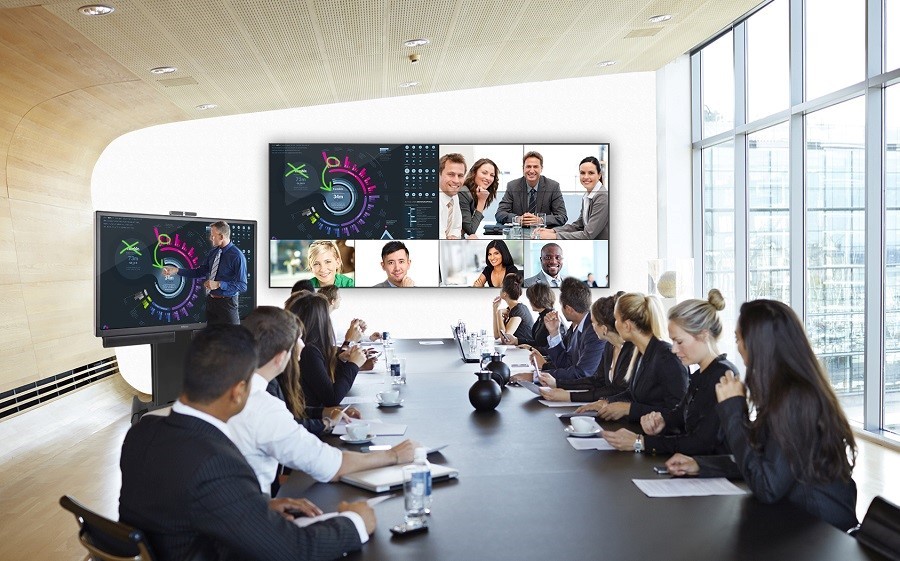 If you've been in the business world for a while, we're sure you've experienced the wonders of video conferencing firsthand. Remote employees depend on it for a connection to in-office teams, and clients and prospects rely on webcams when doing business with you.
Are you using the platform and technology that fulfills your attendees' various needs? In this article, we'll explore some key differentiators between two of the most popular systems, Microsoft Teams and Zoom. Plus, we'll show you how you can take full advantage of Crestron Flex – the next generation of boardroom technology products from the business automation leader. Curious to see what we might recommend for you? Read on to which one you need to start using in your Dallas, TX, office.
SEE ALSO: 3 Commercial Audio-Video Trends That Hospitality Business Owners Should Know
Microsoft Teams
If you're a devout Microsoft user, we think you'll enjoy the flawless integration with programs like Outlook that will let you find and share emails and group chats in lightning speed. You can start a discussion, via chat or video, right from the Teams platform, or host a meeting that takes only seconds to create. Users enjoy the platform's intelligence, which allows them to find resources -- from transcriptions of recorded texts to relevant, searchable chats and files -- to bring to any discussion.
Microsoft Teams is free to download, with partial functionality and no commitments. For a more robust experience, Teams is available as part of Office 365 Business Premium for $12.50 per user, per month, or Office 365 Enterprise E3 for $20 per user, per month, which unlocks the full range of features.
Zoom

We generally recommend Zoom for clients who host multiple video conference meetings throughout the week, generally built for companies with many remote employees and contacts. With Zoom, it's easy to share your screens, engage your attendees with video whiteboards and presentations and chat during the meeting.
You can also get Zoom for free, but you'll be limited to 40-minute video-conference calls, which probably doesn't leave enough time for presentations, question/answer sessions, relationship building and brainstorming. For longer meetings, your team can purchase a Pro plan for $14.99 per month, or a Business plan for a few dollars more, adding Skype interoperability and some branding opportunities.
So...Which Is Better?
When comparing two similar systems, we've learned that it's not usually a case of what's superior, but what answers the unique needs of each client. Many have touted the speed and dexterity of Zoom, especially when you need something fast and reliable for large groups. However, Microsoft boasts incredible speed and performance, plus native integration with Crestron Flex, making it the clear winner.
Leverage Microsoft Teams with Native Crestron Flex Integration

Crestron Flex is a new line of boardroom technology products designed to simplify your meetings. And native Microsoft Teams integration is just one of its many benefits. Below, take a look at a breakdown of what the leading commercial technology manufacturer has in store.
P-Series: Flex's desktop solution is more than a phone. It's an entire desktop console. Start a call on your smartphone and quickly send it to the Flex device. Collaborate among multiple handheld devices instantly with the P-Series' built-in cloud access. Stay on track with easy meeting scheduling.
M-Series: Built for the boardroom, Flex's tabletop solution simplifies your meeting time with a centralized console that controls all your technology. With a 360-degree microphone array and a range up to 20 feet, everybody in the room can hear conference calls with ease. A separate, mountable 4K camera simplifies video conferencing. And you can command everything from the easy-to-use touchpanel display.
B-Series: Crestron's mountable soundbar solution utilizes beamforming technology to ensure everyone in the room receives clear audio up to 23 feet. A built-in, wide-angle HD camera captures everyone in the room for trusted visibility. It actively tracks people for perfect framing every time. And a beamforming mic ensures simple communication for your entire staff.

Call DeVance Today!
Ready to connect to people and opportunities with robust video conferencing in Dallas-area boardroom? Maybe you know you want to add or upgrade your meetings, but aren't sure which first step to take: We can help you determine which of these systems might suit your technology and team during your free consultation.
Call DeVance Electronic Lifestyle at (214) 389-4985 or visit our website to get started. You can also click on the chat box in your browser to speak with a customer service associate. We look forward to talking with you!