5 Must-Have Technologies for Your Boardroom Automation System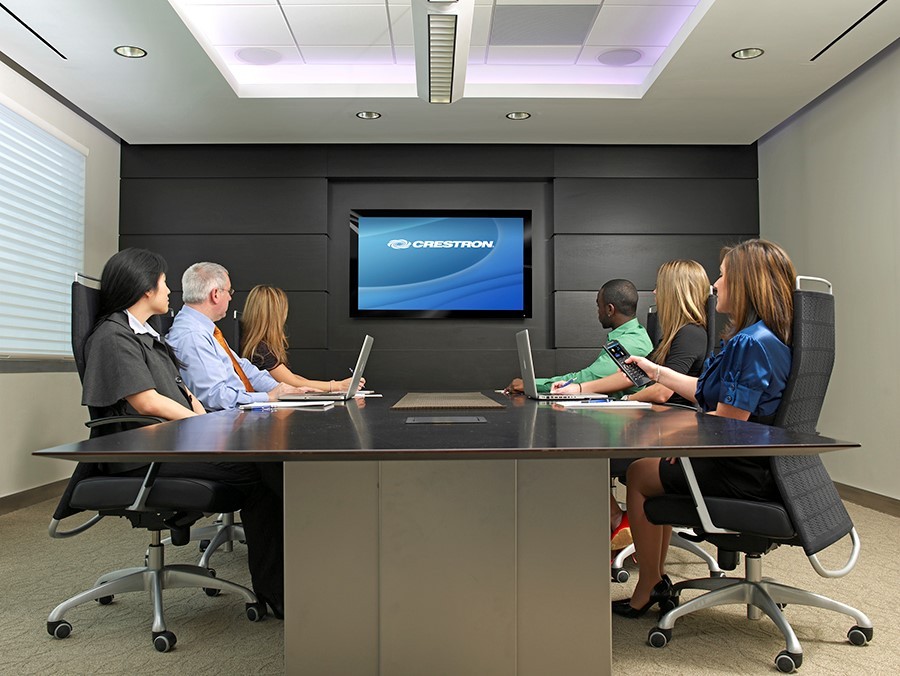 The modern boardroom is about more than just conducting meetings. It's about collaborating with people all over the world, closing deals with key clients, and making strategic plans that could impact the company for years to come. If you're relying on outdated or insufficient technology, you're hindering your company's ability to operate at peak efficiency and effectiveness.
Below, we cover the five technologies that are absolutely essential if you want a boardroom automation system that is reliable and capable of meeting all the needs of your Dallas, Texas area business.
SEE ALSO: 5 Commercial Audio Video Trends for 2017
1. High-End Sound System
Stop struggling to hear remote team members through weak, poorly placed speakers. A boardroom should utilize sound equipment that provides crisp, pure audio throughout the room. Brands such as Mark Levinson and Revel are a safe bet. These hi-fi audio systems are the product of decades of superior design and engineering. Your boardroom automation installer can strategically place the sound equipment and speakers so that you get perfect sound without any cords or devices cluttering up the room.
2. Lighting and Shading Control
Window shades or overhead lights aren't typically what you might think about for boardroom technologies, but they should be. After all, the lighting in a room ties directly into the quality of your visual displays—too much lighting can wash out the imagery, but you still need a well-lit room to conduct meetings.
The answer is lighting and shading control from Lutron. The top choice for lighting automation, Lutron provides a way for businesses to instantly create the right lighting environment at the push of a button. This same technology can also aid in energy management by ensuring that you are never wasting energy on lighting unused rooms or letting solar heat gain raise cooling costs.
3. High-Fidelity Visual Equipment
Whether you go for a projector and screen, a 4K Ultra HD television, or an interactive whiteboard, the important thing is that your boardroom has visual equipment that can reliably provide a clear image of whatever you need to display. To maintain a sleek-looking boardroom, you'll want hidden technology that allows you to reveal the projector and screen or television upon demand—without a bunch of equipment permanently located on your conference table. Your boardroom automation installer will be able to offer guidance on the best size, brand, and placement of this equipment.
4. Networking Equipment
You'd be surprised how many businesses are relying on basic networking systems that have not been tailored to meet the needs of each room. When an attempt to stream 4K UHD video over the company Wi-Fi ends in failure, it's probably not your projector's fault. Without a solid and secure network to support your boardroom automation system, you're not going to get the reliability you need for everyday operations. Wireless access points, wired A/V equipment, and other networking devices can all go a long way toward ensuring boardroom success.
5. Central Control System
One of the main problems with boardroom technology is that getting all of these different systems to work together cohesively is time-consuming and frustrating. That's where Crestron comes in. Crestron is a manufacturer of commercial automation technology that connects all of the devices throughout your boardroom into one easy-to-use, reliable system. Using a central control device such as a smartphone or integrated touchscreen, your employees can turn on audio/video devices, dim the lights, lower the shades, and launch a teleconference—all with just one tap of a screen.
If you're going to invest in a boardroom automation system, then Crestron is the right choice (they're also the manufacturer used by Fortune 500 companies and government agencies around the world, such as Microsoft, NASA, the Pentagon, Yankee Stadium, and more).
If you're interested in adding any or all of these automation technologies to your boardroom, contact DeVance Electronic Lifestyle today. We provide office environments throughout the greater Dallas area with technology that makes business operations smoother, faster, and more efficient.