Top 3 Benefits: Voice Control Simplifies Your Lifestyle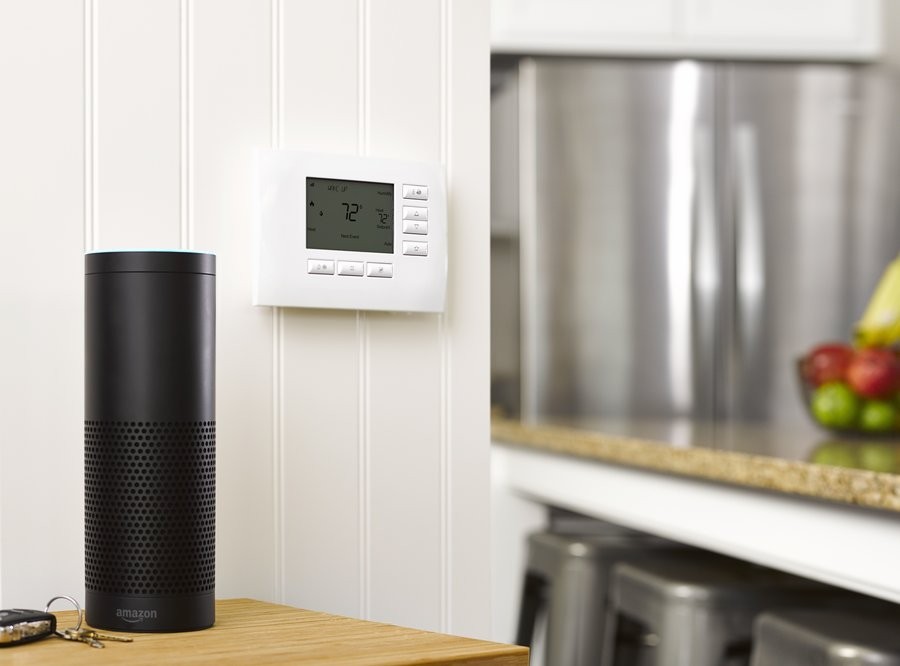 If you're considering new, innovative technologies for your smart home automation system, voice control might not be high on your list as of late. This solution can feel a bit too futuristic at first – why would you need this added feature? What can it do for daily life in your Dallas, TX home?
In this blog, we'll dive into how voice control from Amazon's Alex can elevate your entire automation system. Make every day easier than ever at home by just saying a few simple words to get things done and have your whole property at your command.
Want to learn how Alexa can benefit you and your family? Keep reading below.
SEE ALSO: 3 Benefits You Can Expect from Professional Smart Home Automation
Elevate Smart Home Security
Keeping your family safe and secure is your top priority, always. So how can you avoid making your home security a complicated, compromised aspect of your system? Smart surveillance cameras throughout your property, smart locks in exteriors and interiors, and burglar/fire safety alarms all create a safer space for you and your family. And with Alexa, you can check on every smart feature with just a few words.
As you get ready to go to sleep, you might suddenly wonder if you locked the backdoor or armed every alarm. No need to walk back downstairs, look for your remote, or pull out your smartphone. Just ask Alexa if every smart lock is secured and if every alarm is armed.
Alexa will let you know which doors aren't secured and can lock them down immediately. Make sure every necessary alarm is armed or disarmed to your preference at the mention of a single phrase or a few words. You can go to bed with zero stress and with absolute certainty that your home is secure and that most importantly – your family is safe and well-protected.
Liven Up Your Mornings
With smart home automation, you can take your mornings to a new level every day. Once your alarm goes off, technologies like motorized shades will respond right away and raise up to let natural sunrays spill into your bedroom. Your whole home audio will then play your favorite party tune throughout your house to get you moving, and your lighting control will illuminate your room, bathroom, and hallways – eventually leading you to the kitchen.
However, not every day requires the same wake-up routine. Your system makes it easy to make changes to your scheduled "scenes," but what if you want to make adjustments right then in there as your alarm goes off? It's a pain to reach for your smartphone or remote, or even worse – to get up and walk to your wall keypad.
Alexa takes away any hassle. Want to sleep in one morning that you're feeling particularly tired and to need to catch some more rest? Avoid blinding sunlight hitting your eyes and your lights all turning on at once – and keep that loud party song from blasting as soon after your alarm goes off. Quickly and easily ask Alexa to make the changes needed. Ask to keep the shades lowered, the lights off, and your speakers from playing a loud song.
Then, once you're finally ready to rise out of bed, you can keep the shades lowered but ask that the lighting fixtures turn on at a dimmed setting that slowly brightens as the morning goes on. Even play a relaxing, mellow melody – all at the request of a spoken word.
Easy to Use
Voice control isn't here to replace the use of smartphones, tablets, remotes, and wall keypads. Alexa is, instead, meant to add to your smart home automation system and elevate it.
While every smart device makes managing your system stress-free, every other solution besides voice control requires the potential need to get up and find it. Voice control adds a luxurious option to the lineup.
Stay seated on the couch as you watch a movie with family and don't leave guests in the middle of a conversation at your dinner party. Lower the volume of music playing in your living room, adjust your smart thermostat when you arrive home after running errands, or turn on every light downstairs with a simple voice command. It's simplicity and ease of use on every level.
Want to learn more about Alexa voice control for your smart home automation system? Give our team a call or fill out our online contact form to schedule a no-obligation consultation with us. We'd love to hear from you!