Create the Ultimate Huddle Room Space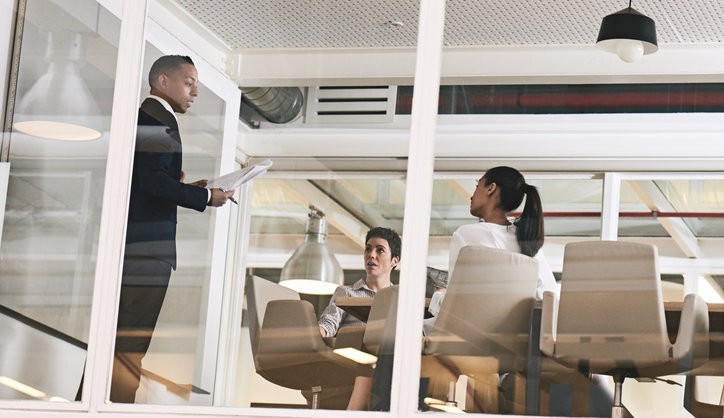 Collaborate & Communicate More Easily With Coworkers
It's often miscommunication that can lead to chaos at any type of business. No matter the size of your Dallas, TX company, you need specific spaces designed to foster teamwork and collaboration. Boardrooms and conference rooms are great for larger meetings or presentations – but what about those gatherings that require smaller, more intimate settings?
Huddle rooms are here to fulfill this need. Want to find out how these spaces are designed to make working with fewer colleagues in one room a breeze? Check out what goes into this smart setup below.
SEE ALSO: Have You Noticed Sound Issues During Video Conferencing?
A Comfortable & Confidential Space
Maybe the large boardrooms are all booked. Maybe you or your employees don't want to take up a whole table and room's use when only three people are going to occupy it. Whatever the reason may be, a smaller space is often needed for those everyday meetings, brainstorms, and collaborations.
Employees might find themselves migrating to the office's common areas, such as cafeterias or lounging rooms, just to get a space to sit and discuss the topic at hand. But those parts of the office can get congested fast, meaning noise and distractions abound. Your employees need smaller settings to escape to when those high-traffic areas become crowded.
Huddle rooms provide a private, quieter space that can accommodate any type of meeting you're hosting. Only with this environment, a smaller group can thrive and communicate easier than they would in a conference room.
All the Tech You Need
A huddle room doesn't mean compromising the high-end smart technology you've grown accustomed to in your other conference rooms. The audio video solutions that simplify every meeting and gathering can also be found in your huddle rooms.
Stunning visual displays, smart whiteboards, and 4K projectors can all find their home there. High-fidelity in-wall and in-ceiling speakers can continue to provide crystal-clear audio, whether you're listening to a presentation or starting up a video conference with remote employees. Properly placed cameras and microphones elevate the huddle room to the same level as your boardrooms, never sacrificing top-quality functionality for sizing and setup.
Impressive audio video technologies, along with comfortable seating and professional acoustic treatments, create the ultimate collaborative space that surpasses the needs of every employee in the room.
Our team at DeVance Electronic Lifestyle can help with every huddle room installation and setup to ensure you end up with a space that accommodates the exact reason you are seeking this type of setting in the first place.

Want to find out more about huddle rooms and how you can bring their many benefits to your company? Give us a call or fill out our online contact form here to schedule a no-obligation consultation with us. We look forward to assisting you!