Elevate Your Video Conferencing with Zoom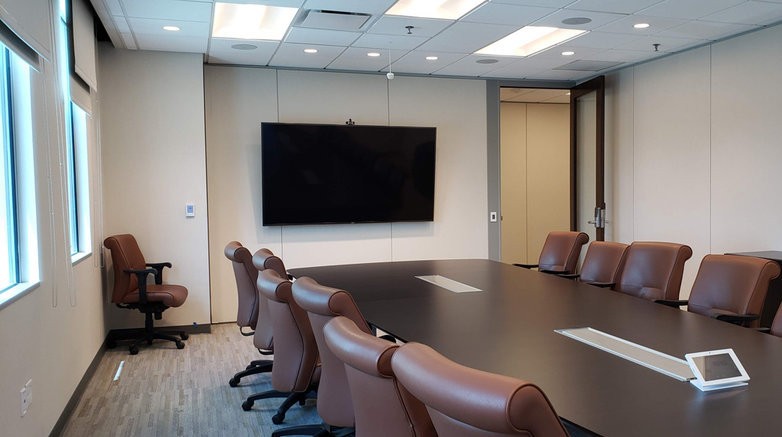 Right now, working from home is more common than ever before. Keeping up with your employees at home or across the globe is a key component to your company's commercial automation now and for years down the road, providing your offices with incomparable flexibility and efficiency.
So how can you bring your whole Dallas, TX company together with video conferencing solutions that tie a bridge between all your employees? Zoom is the answer, and it's growing more popular every day.
In this blog, we'll dive into what Zoom setups in your conference rooms entail and how your entire business can benefit from one. Keep reading below to learn more!
SEE ALSO: A Closer Look at Microsoft Teams and Zoom
What Can Zoom Do?
What to close the gap between where all your employees are? Zoom makes it easy to host a multitude of video conferences a week, or even a day, with as many employees as you'd like – no matter where they are in the world.
Utilize Zoom to screen-share so every employee can view what presentation or display you want everyone to see. Have chats, answer questions, and take notes during the meetings, all while incorporating interactive whiteboards and other boardroom technologies into your call.
Zoom makes it easy to bring its system to your existing conference room design and setup, or if you're starting out brand-new with commercial smart solutions. Create "Zoom rooms" in your company that are effectively conference room setups that can connect employees to a meeting with just a tap of a button. Instantly, every employee both in the room or around the globe can be in the same place via a screen.
Zoom Benefits
When you use Zoom, you can trust that you get a high-end performance every time, whether in the office or for your employees at home. Consistent audio and video quality across every location means more efficient meetings with fewer delays and no time spent on awkward glitches and frozen screens.
Joining a meeting is a breeze. Employees can choose to join one with just audio and video or with neither from their end, making it stress-free to attend a meeting no matter where they are. Employees on the go? The setting can remain professional and without audio distractions by letting every user have the ability to mute themselves or turn off their camera with zero hassle.
With Scheduling Display, Zoom makes it possible to keep the conference rooms in your office building from getting overbooked. Its calendar integration feature lets employees use Office 365, Google Calendar, or Exchange to book meetings or to see what rooms are available on which days and at what times. Just walk up to a Zoom Room's touch panel outside the room to check in and make changes and meetings in mere moments. It's that simple!
Want to learn more about Zoom and its benefits for your entire company? Give our team a call or fill out our online contact form here. We'd love to hear from you!