Create a Smart, Productive Workspace with Commercial Automation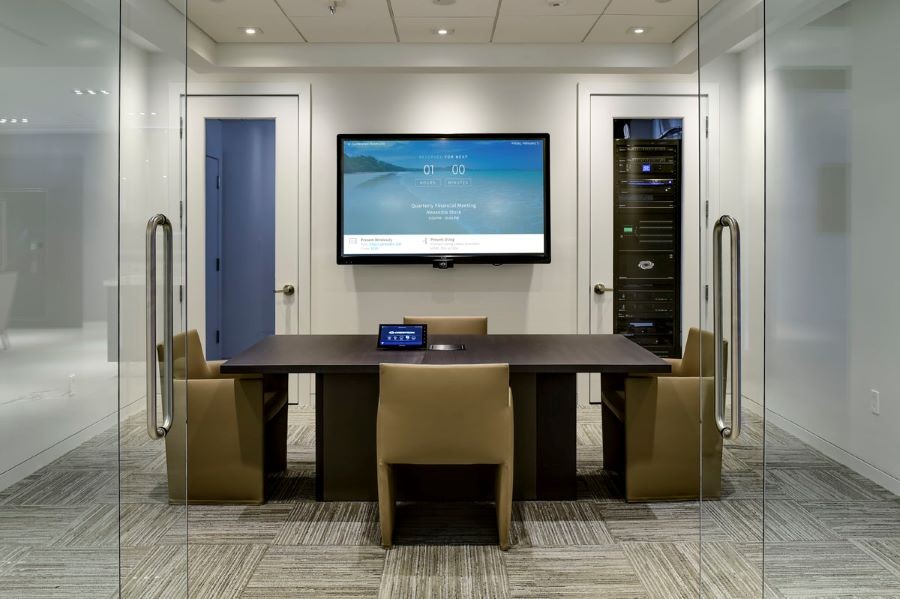 Manage Your Business's Many Systems with One-Touch Control
Can you imagine a day in the office that flows effortlessly? The balance between natural and electric light is perfect, with lights that automatically shut off in unoccupied rooms. Soft, inspiring music drifts through preprogrammed areas and shuts off during meetings. The meeting in the boardroom and the video conferencing sessions go off without a hitch, with crystal-clear audio and images and remote collaboration tools that increase productivity.
In the hands of an experienced integrator, Crestron commercial automation offers all of that and much more. Let's explore the benefits of automating your business in Frisco, TX.
SEE ALSO: Experience Upgraded Commercial Conferencing for Your Next Meeting
What Is Crestron Commercial Automation?
Using commercially designed Crestron touch panels, mobile devices, and keypads, you and your team can manage all the technology throughout the facility, whether on-site or at a business meeting halfway around the world. Control lighting, blinds, climate, security, access control, audio-video distribution, and presentation systems from the same user-friendly platform.
At DeVance Electronic Lifestyle, we specialize in creating smart, productive workspaces. To accomplish this, we integrate all your separate devices into a simple-to-use Crestron platform that makes managing your business's electronics and smart devices as easy as one-touch or voice-activated. By programming preset scenes, your building's systems work together, creating the perfect environment.
Preset Scenes
We'll take the time to understand your daily routines, enabling us to program the automated tasks that save you time and money. This may include an opening button that sets the temperature, turns on the lighting to preset levels and hues, adjusts the shades, and turns on the audio. The window coverings automatically adjust throughout the day based on the sun's position, temperature, and room use, bringing in the diffused light of the sun while reducing solar heat gain and eliminating glare on computer and video screens.
The lighting also adjusts accordingly, dimming and brightening based on the level of natural daylight. Our certified technicians also install occupancy sensors that turn off the lights and audio-video equipment in unoccupied rooms. When it's time to close for the day, one tap turns off your smart devices, sets the security lighting, locks the doors, and arms the alarm.
Video Conferencing and Collaboration
Video conferencing and collaboration solutions are in high demand as the hybrid workforce continues and more clients expect remote capabilities. Your commercial automation system incorporates Crestron Flex, a video conferencing and collaboration solution. This system provides intelligent video and high-fidelity audio, one-touch access to video conferencing, and smart room control.
Intelligent face framing highlights each person in the room, individually and as a group. These voice-activated cameras focus on speakers and presenters and adjust as people enter and leave the room. As a result, every meeting is engaging, inclusive, collaborative, and effortless to manage. One touch activates AV equipment and adjusts the lighting and shades for the meeting. With natural voice recognition, you can conduct presentations without needing tablets or remotes.
At DeVance Electronic Lifestyle, we create tailored technology solutions that are easy to use, helping businesses create the best work experience while increasing productivity and enjoyment. To learn more about commercial automation or to schedule a complimentary consultation, contact DeVance Electronic Lifestyle today.